D2D is and remains the most effective steps to success. How do your colleagues make their door knocking a success? In this article you learn the door knocking best practices.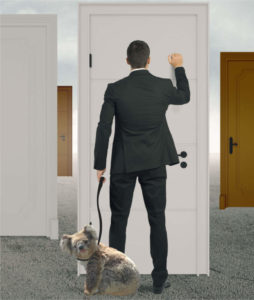 The real estate sales industry (in New Zealand and anywhere else) relies heavily on relationships. It is but natural for clients to want someone they can trust handling their sizeable property investments. Whether they are in the market to buy or sell, they would need a realtor to guide them through the process. The challenge for such professionals is to be able to connect with such prospects. They must build their contacts base beyond their "sphere of influence" of family and friends. In this emerging world of social media marketing however, one of the most effective prospecting techniques is still door knocking.
This article will discuss the merits of the practice combined with some basics to remember in order to be more effective at it.
Best practice for all succes: Demeanour
There are three things to take note of before knocking on a stranger's door. A good attitude which displays a positive and genuine demeanour is one of them. It is something that people will respond to and is a characteristic which underpins the entire process. Remember that the purpose of door knocking is to establish and build relationships. People will see through fake personalities who are not interested in their well-being.
Do not treat these short interactions as just another house to tick off the list. People will take notice and there is a good chance that word will spread about the encounter. It might as well be something positive. Be focused, show competence and convey professionalism. This is a long-term strategy and not just a one time affair to get a listing or a prospective buyer's contact details.
The goal of door knocking is to:
Meet the neighborhood
Understand the sentiments of the community
Know the types of houses
Possibly get in touch with the homeowner's association officers
Dress for success is a best practice
Studies vary on exactly how long it takes to make a good first impression, or a bad one for that matter. It generally ranges between one tenth of a second to 30 seconds. Regardless, there is a short timespan to make a positive impact. Within this limited period, realtors need to communicate the part of a trustworthy and responsible professional. It will be difficult for potential buyers or sellers to rely on a realtor who cannot at least show that they take care of themselves.
A person's outward appearance is a likely indicator of what is going on within. The one who looks professional would certainly be viewed as more capable to handle the complexities of real estate investing over someone who introduces themselves in shorts. It does not matter if it is a hot day. Look sharp. Wear a nice crisp shirt and pressed slacks or a simple but appropriate dress to let people know that they are dealing with someone they can depend on. It is the second essential of door knocking which can easily be overlooked though can convey a very powerful unspoken message when executed correctly.
Be ready for anything when door knocking
Showing up at somebody's door with a good looking outfit and an honest smile are just two parts of the equation. The third basic requirement is preparedness. Doing this takes time so be willing to put in the necessary effort to undergo the process. As the oft quoted saying by Sun Tzu goes, "Every battle is won before it is ever fought."
What does it take to win? Do the necessary research and study them routinely. This is more technical in nature though is not always considered the most fun part of being a realtor. It is also something that can easily be overlooked because of the effort involved in doing them. Performing due diligence however is not an extra requirement, it is actually part of the job. It is good to practice it not only when there is a potential sale but in every aspect of the business.
Know the facts and numbers:
Being familiar with the multiple listing system (MLS)
Researching on tax records and learning about tax nuances
Performing comparative market analysis (CMA)
Having a ready list of what is selling in the community backed up by figures
Focus on your prospect: Stop, look and listen
Armed with these three fundamentals, it is important to keep in mind that not every door can be a target regardless of its potential. Consumer NZ has a "Do Not Knock" campaign in effect which could result in stiff fines for violators. Look out for such stickers before knocking on any door. Disregarding it could also be grounds to revoke a real estate license. Getting a bad reputation in the community however could be just as damaging.
When the opportunity does present itself and the door knocked upon eventually opens, be sure to exude a respectful but confident stance. Have a script that is non-confrontational both in words used and body language employed. Take one step back and to the side instead of squarely facing the prospect. Give a simple greeting of hello and wait for the response before continuing. The message should be short and simple but engaging.
Use a tools like RealtyBuddy to take care of the admin and hassle so you can stay focus on your prospect. That is the foundation for success in real estate.